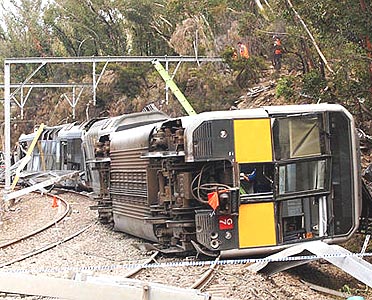 Waterfall jernbaneulykken skete den 31. januar 2003 ved Waterfall, New South Wales, Australien, da et tog afsporedes og væltede. Ved ulykken omkom 6 passagerer samt togets fører.
On the morning of the disaster, a Tangara intercity train service, set G7, departed the Waterfall railway station heading south towards Port Kembla via Wollongong. At approximately 07:15 the driver, Herman Zeides, suffered a heart attack and lost control of the train. As a result the train was travelling at 117 km/h as it approached a curve in the tracks through a small gorge, which was only rated for speeds up to 60 km/h. The train derailed, overturned, and collided with the rocky walls of the gorge. In addition to the seven fatalities, many more passengers were injured.
The subsequent official inquiry discovered that the deadman's brake had failed to function. It was also determined that the train guard, who should have applied the emergency brake, was in a microsleep for up to 30 seconds just prior to the accident.
Causes of the accident
Systemic causes
Similar accidents
Se også
Externe links